When it comes to picking out a cigar to smoke, each brand has their own signature taste and flavor. Popular brands have spent years perfecting the characteristics that their cigars contain and continue to leave their customers coming back for more. 
Cigar-lovers enjoy brands like Ashton, Arturo Fuente, Oliva, La Aroma de Cuba, and Padron. These well-known names in the cigar-making industry have been front runners for decades. If you are new to cigar smoking or are looking to brand out and try something different, it may be difficult to know where to start with all of the up and coming brands to choose from. 
Most cigar lovers like to stay loyal to their favorite brands, but 2022 could be your year to explore the different tastes and flavors other cigars offer. Here are 10 popular cigar options to try this year. Maybe you will find your new favorite!
Taste 
Cigar fanatics lean towards certain tastes and flavors after having tried their fair share of cigars. If you already know what you are most likely to enjoy then the hunt may be slightly easier. For those who may not know what they do and do not like, the options are endless and you may find that sampler cigar packs can be helpful! 
Sampler packs allow you to try a select few cigars and broaden your horizons as you dip your toes into the cigar-smoking world. They have a resealable package that keeps cigars fresh without the need of a humidor.
Flavor
As far as taste and flavor go, cigars can be commonly described as spicy, sweet, earthy, and nutty. The characteristics used to describe cigars is what sets them apart from each other and creates a sense of uniqueness.
Spicy
Spicy tasting notes are prevalent in many cigars. Many cigar smokers look for spicy tasting notes when picking out their next cigar to try. Cigars with flavor profiles that include jalapeno, bell peppers, white pepper, and poblano notes offer a granular portrait, while black pepper, red pepper, and cayenne are the more common descriptors. 
Sweet
Premium cigars can also be described as sweet. What does this mean? Well, the sweet notes referred to in cigars include dark chocolate, cocoa, molasses, maple, and even caramel on the rare occasion.  Cigar connoisseurs who prefer a sweeter flavor experience while smoking enjoy how the wrapper leaf of the cigar can complete and complement its naturally sweet taste. 
Earthy
​​Earthy flavors are common in the best tasting cigars. They are characterized by the tasting notes of many premium cigars.  If you are researching the best cigars on the market you may have heard terms like coffee beans, leather, black pepper, and earth quite often.
Nutty
Cigars, often a milder choice, can be described as nutty too. Hints of almonds, cashews, walnuts, and chestnuts are the most common notes you will find among all of the options out on the market. However, hazelnuts and pistachios notes can appear in a cigar's tasting as well.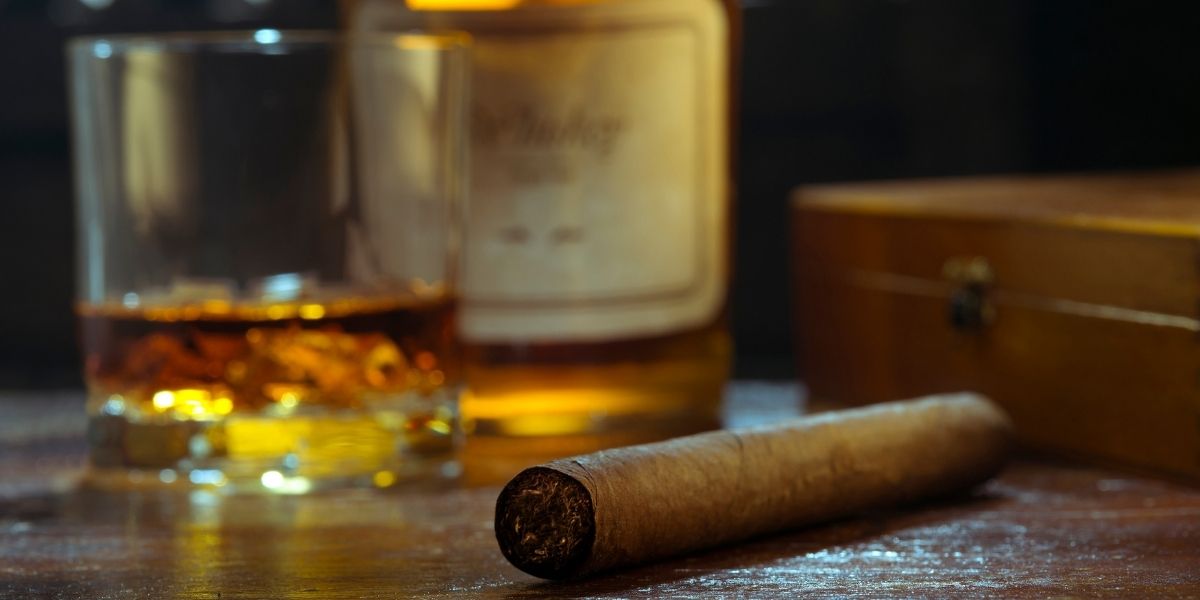 This Year's 10 Most Popular Cigars
With cigars of all kinds rising in popularity, the most popular choices can vary year to year. If you are looking for 2022's top selection, here are 10 cigars you must get your hands on throughout the year.
1. Davidoff White Label Short Perfecto
Being smaller than your average Davidoff cigar and extremely high in quality, this cigar is a great choice because it is affordable yet still rich with flavor. The White Label Short Perfecto begins with hay and buttery smoke and then transitions into earthy notes. Finally, a touch of pepper spice can be found at its end.
2. Nat Sherman Sterling Selection
If you enjoy a milder cigar, consider this a top 2022 pick. Cigar smokers who are searching for an affordable cigar that is both balanced and approachable in taste love the Nat Sherman Sterling Selection. Its Connecticut wrapper can be best described as creamy and buttery in flavor and includes notes of cocoa, wood, and toasted bread. 
3. Illusione Epernay
Care to splurge or try something new? If you are looking for the perfect celebration cigar for a memorable 2022 moment consider paying a little extra for an Illusione Epernay cigar. Cigar connoisseurs love the distinct floral notes this unique smoke brings to the table. The taste of honey, coffee, and cedar make for a special experience. 
4. Foundation Highclere Castle Churchill
Do you want to test your senses with a mild complex cigar? Maybe the Foundation Highclere Castle Churchill is worth investigating. This cigar produces a creamy smoke that is filled with pepper, citrus, and leather notes. Its complex flavor combination is a great way to kick off a new year.
5. Padron 1926 Series
Is a mellow, smooth smoke more your style? If so, the Padron 1926 Series cigar brings a unique caramel sweetness to your smoking experience. Cigar-lovers enjoy the tang that the notes of cedar provide as well as the black and cayenne pepper flavors.
6. Arturo Fuente Anejo
If a nutty flavored cigar is what you are looking for, consider purchasing the Arturo Fuente Anejo. This cigar includes cognac, oily sweet, butter and nut notes for an excellent smoking experience. It's wrapper is aged in Cognac barrels and is layered with spicy, robust binder and filler for all types of cigar smokers to enjoy.
7. Ashton VSG
Cigar smokers who are using 2022 as a time to branch out and try new cigars may not want to splurge. The Ashton VSG is the perfect choice if you want a full-bodied cigar that is filled with plenty of flavor yet still affordable. Its Ecuadorian wrapper is oily and rich and provides rich flavors. Cigar lovers or beginners can expect to receive notes of cedar, espresso, and dark chocolate throughout their smoking experience.
8. Fuente Fuente OpusX
Are you a cigar collector? If so, then it is time you purchase the Fuente Fuente OpusX cigar. OpusX has proved time and time again that Dominican-grown, Cuban-seed tobacco just might be the best in the industry. Considered one of the best full-bodied cigars in the game, its cayenne pepper and leather notes are hard to beat.
9. Por Larranaga Panetelas L
If you are a cigar-beginner, Larranaga is the perfect starter cigar. Developing your palate may take a few cigars and a short-filler cigar is a great option for the process. The Por Larranaga Panetelas L cigar lights up fast, has a bigger body, and is budget friendly. It includes caramel, earth thyme, and cedar notes which gives the cigar a unique and special aroma.
10. Cohiba Ciglo I
Want something rich in flavor? It's time to try the Cohiba Ciglo I cigar. This too is great for beginners because it is a light-medium cigar. The cocoa, vanilla, and coffee notes make for an enjoyable experience when smoking this unique flavored cigar and it's a great option if you are still discovering your palate.
Make this year interesting and try some of these popular cigar 2022 picks. If you're ready to branch out, the professionals at Vitola Fine Cigars are here to help! With five locations in the Birmingham and Tuscaloosa, Ala. areas, we're ready to help online or in store! Contact us today at 205-991-3270!